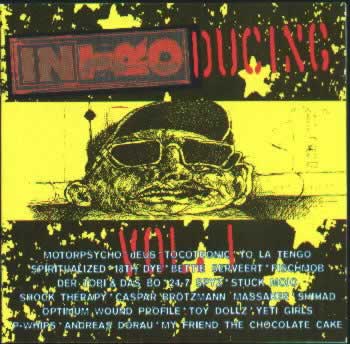 CD City Slang 1997
A Strug And A Fistful (Motorpsycho)
Via (dEUS)
Letztes Jahr im Sommer (Tocotronic)
False Alarm (Yo La Tengo)
These Blues (Spiritualized)
Play W/You (18th Dye)
Ray, Ray, Rain (Bettie Serveert)
Bonanzarad (Fischmob)
Mitdemfischanderwandindenputz (Der Tobi & Das Bo)
Outta Mind, Outta Time (24-7 Spyz)

Not Promissed Tomorrow (Stuck Mojo)

I Wanna Be Your Dog (Shock Therapy)

The Tribe (Caspar Brötzmann (Broetzmann) Massaker)

Gimme Gimme (Shihad)

Pure Love (Optimum Wound Profile)

Lazy Sunday Afternoon (Toy Dollz)

Seximinisuperflowerpopopcolafan (Yeti Girls)

Little Red Window (P-Whips)

Stoned Faces Don´t Lie (in DUB) (Andreas Dorau)

The Old Years (My Friend The Chocolate Cake)

Notes: The text in the booklet reads:
YO LA TENGO >>False Alarm<<
aus dem kommenden Album >>Electr-O-Pura<< (City Slang/EFA- LC 6853)

Exklusiv und vorab liefert >>False Alarm<< eine exzellente Kostprobe aus dem in Kürze (Kuerze) erscheinenden siebten Album des Hobokener Trios. Hypnotisch, elektrisch, dramatisch - phantastisch!

Translation:
YO LA TENGO >>False Alarm<<
from the forthcoming Record>>Electr-O-Pura<< (City Slang/EFA- LC 6853)

Exclusive and before release >>False Alarm<< gives us an excellent Sample from the forthcomming new seventh record from the Hobokener Trio. Hypnotic, electric, dramatic - fantastic!